The Renovated City Centre of Saint-Denis: The Failure of a Social Mix Project?
Le centre rénové de Saint-Denis : l'échec d'un projet de mixité sociale ?
Based on a study of the social evolution of the renovated centre of Saint-Denis, a town in the inner suburbs of Paris, this paper analyzes the process of social transformation of a suburban neighbourhood where middle-class households, during the last three decades, have been in large part replaced by working-class households. It relays both on a statistical analysis of the neighbourhood's population and its evolution, and a survey conducted through questionnaires and interviews with inhabitants and local actors. This work aims at demonstrating that the two major figures described in most urban research works—gentrification, on the one hand, and pauperization and ghettoization on the other—tend to oversimplify the complex and non-linear reality of urban change. The paper emphasizes the specific dynamics of a social housing neighbourhood in a city centre. It shows that, three decades after it has been designed and built as a social mix project, this neighbourhood is characterized by a population which tends to remain slightly different from the rest of the social housing population: it includes more "small middle class" households and less distressed families. Through the analysis of the practices and representations of the inhabitants, it demonstrates that this neighbourhood, although it has lost most of its initial social mix, is still defined by its identity and by specific forms of social cohabitation and local anchorage.
À partir de l'étude de l'évolution sociale du centre rénové d'une ville de première couronne parisienne, Saint-Denis, cet article analyse les logiques de transformation sociale d'un quartier de banlieue dans lequel les classes moyennes ont, au cours des trois dernières décennies, largement laissé la place aux classes populaires. Il s'appuie d'une part sur une analyse statistique du peuplement du quartier et de son évolution et, d'autre part, sur une enquête par questionnaires et par entretiens auprès des habitants et des acteurs locaux. En montrant que les logiques de transformation peuvent être plus complexes et moins linéaires que les deux figures classiques majoritairement mises en avant dans les études urbaines, celle de la gentrification d'un côté et celle de la paupérisation ou ghettoïsation de l'autre, ce travail contribue à documenter la multiplicité des trajectoires observables. Il met l'accent sur les dynamiques sociales propres à un quartier d'habitat social de centre-ville. Il souligne en effet que, trois décennies après la conception et la mise en oeuvre de ce projet de mixité sociale, le peuplement du parc d'habitat social du quartier reste légèrement différent de celui du parc social de la ville, accueillant notamment plus de familles appartenant aux « petites » classes moyennes et moins de familles précarisées. À travers l'analyse des pratiques et des représentations des habitants, il montre que ce quartier, même s'il a perdu l'essentiel de sa mixité sociale initiale, se caractérise par une identité et par des formes de cohabitation et d'ancrage originales.
Fichier principal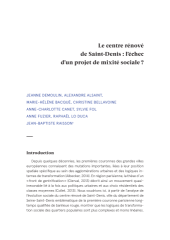 Demoulin et al - Saint-Denis.pdf (126.45 Ko)
Télécharger le fichier
Origin : Files produced by the author(s)