"La ferme !" : is "ferme" a Verb, a Noun or an Adjective ?
« La ferme ! » : verbe… ou non ?
Françoise Kerleroux (1991, 1996) provided an in-depth study of the French colloquialism "La ferme !" ("Shut up!") within the framework of the so-called positional model of Generative Grammar (Milner 1989). In this model, syntaxic categories break down into atomic categories ("catégories des termes") and position categories ("catégories des positions syntaxiques"), so that it becomes possible to put under scrutiny cases of discrepancy between syntactic atoms and positions, such as in "La ferme !" showing no syntactic pattern. The positional model is a way of rescuing the traditional parts-of-speech (word classes) doctrine, in particular its claim that word categories are mutually exclusive. This paper shows that such a claim doesn't account for the polysemy of the formula "La ferme!" ranging from a verbal reading to a nominal one. The analysis of the morpheme FERM- restores a potential for semantic variation giving rise to different syntactic labellings of the ambiguous form "ferme".
Version d'auteur. de mon intervention au colloque « Le complexe du verbe », organisé par le laboratoire Episteverbe, 30-31 mai 2012 (IUFM de Lyon – Université Claude Bernard). Les formulation définitives sont dans "Le verbe en friche", M.-N. Roubaud, J.-P. Sautot (ed), éditions Peter Lang, 2014, pp. 67-79. Une enquête approfondie sur l'expression "La ferme!" fut menée par Françoise Kerleroux (1991, 1996) pour alimenter le modèle positionnel de la théorie générativiste (Milner 1989). Dans ce modèle sont distingués, sur le terrain des catégories, les termes et les positions qu'ils occupent. Ce qui ouvre la voie au domaine qu'avait élu Françoise Kerleroux : les cas de discordance entre, d'une part, la formule catégorielle des sites syntaxiques et, d'autre part, l'appartenance catégorielle des termes qui occupent ces sites. Tel est le cas de "La ferme !" qui n'a pas de treillage syntaxique (cf. également Mon œil ! Zut ! Oui ? Et ta soeur !) En dédoublant systématiquement l'incidence de l'étiquetage catégoriel, la théorie des positions se présente comme une entreprise visant à sauver un élément central de l'édifice grammatical antique : les « parties du discours » seraient mutuellement exclusives, quel que soit l'item qu'elles servent à étiqueter, terme ou position. Nous verrons que ce postulat n'est pas satisfaisant pour rendre compte des particularités de "La ferme!". Les parties du discours ne sont pas des atomes théoriques ultimes, mais bien des catégories linguistiques, et à ce titre, comme l'indiquait le titre de notre colloque, des "complexes" de propriétés qu'il s'agit d'analyser plus avant. L'analyse du morphème FERM- permet de rendre compte de la variation sémantique et catégorielle de l'expression.
Fichier principal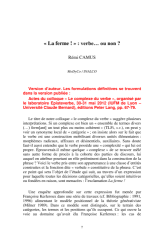 CAMUS_episteverbe_la_ferme_version_auteur_recueil.pdf (480.54 Ko)
Télécharger le fichier
Origin : Files produced by the author(s)