Le Natoufien Final et les Nouvelles Fouilles a Mallaha (Eynan), Israel 1996-1997
Fiel work renewed at Eynan in 1996 was devoted to clarify the site extension and to excavate the upper, Final Natufian, layer. It was shwn that Natufian remains are still found 25 m east of the main excavated area. More than one layer of architecture with oval dwellings (previously not documented at this stage) ans additional graves were uncovered in the Final Natufian; Large quantities of material - including some obsidian - were collected, but vegetal remains are not preserved. Analysis of this material shows that the Final Natufian people maintained former traditions although some aspects forshadow the later PPN. Future work sould clarify the way of life especially the question of sedentism at this time period.
Les travaux repris à Mallaha en 1996 ont porté sur l'étendue du gisement et sur les couches supérieures, Natoufien final. Ils ont montré que l'occupation se poursuit au moins 25 m à l'est de la fouille principale. Le Natoufien final a livré plusieurs niveaux d'architecture avec des "maisons" jusque-là inconnues et de nouvelles sépultures. La matériel, ou figure un peu d'obsidienne, est très abondant mais les végétaux ne sont pas conservés. Son analyse permet de mieux comprendre un stade culturel peu documenté qui semble s'inscrire dans la tradition antérieure mais dont certains traits annoncent le PPNA. La recherche à venir devrait éclairer le mode de vie, et en particulier le degré de sédentarité, maintenu à cette époque.
Fichier principal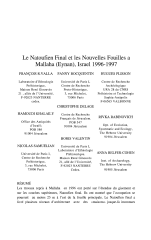 Bocquentin_F._1999._Les_sepultures._In_V_OK.pdf (27.75 Mo)
Télécharger le fichier
Origin : Files produced by the author(s)