La performance sportive comme travail
In recent decades, there has been much development in research connecting sport and work. It covers a wide range of questions such as how sports organisations operate, the careers of top-level athletes, the growth of an economic sector and its specific jobs, the international migrations of athletes, sexual or racial discrimination in access to the labour market in sport, etc. Here, we place the emphasis on one central dimension of sports activities: competition. Our objective is to analyse the mechanisms of production of sports performance. We consider this to be the outcome of work that does not only involve athletes, with their individual skills, qualities or capacities. We define it as a collective activity that marshals multiple actors, institutions, organisations. Through a variety of activities of judgement, evaluation, recognition, qualification, classification and selection, these actors contribute directly and decisively to producing sports performance. By presenting empirical work that discusses this issue and applies it in varied domains (cycling, rugby, judo, etc.), we call for the development of research into work in sport.
Au cours des dernières décennies, les recherches articulant sport et travail se sont beaucoup développées. Elles portent sur un large ensemble de questions comme le fonctionnement des organisations sportives, les carrières des sportifs de haut niveau, la croissance d'un secteur économique et de métiers de l'intervention sportive, les migrations internationales des sportifs, les discriminations sexuelles ou raciales dans l'accès aux marchés du travail sportif, etc. Ici nous mettons l'accent sur une dimension, centrale, des activités sportives : la compétition. Et notre objectif est d'analyser les mécanismes de production de la performance sportive. Nous considérons celle-ci comme le résultat d'un travail qui n'engage pas les seuls sportifs, avec leurs aptitudes, qualités ou capacités individuelles. Nous la définissons comme une activité collective, qui mobilise une pluralité d'acteurs, institutions, organisations. À travers une variété d'opérations de jugement, d'évaluation, de reconnaissance, de qualification, de cotation, de sélection, ces acteurs contribuent, de manière directe et décisive, à produire la performance sportive. En présentant des travaux empiriques qui argumentent cette problématique et la mobilisent dans des domaines variés (cyclisme, rugby, judo, etc.), nous invitons au développement de recherches sur le travail sportif.
Fichier principal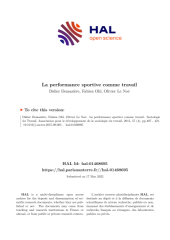 2015-demaziere-la-performance-sportive-comme-travail-vauteur (1).pdf (349.86 Ko)
Télécharger le fichier
Origin : Files produced by the author(s)