Are workers clairvoyant or blind? Sociological assessments
Clarividencia o ceguera de los trabajadores : ¿cuál es la visión de los sociólogos ?
Clairvoyance ou aveuglement des travailleurs : qu'en disent les sociologues ?
As a topic, workers' subjectivity has often been studied in sociology. Some approaches emphasize analyses revolving around concepts such as involvement, identity and the meaning of work, considering that workers entertain a realistic and genuine relationship with their activity. In such cases, they might be construed as manifesting a modicum of clairvoyance vis à vis the situations they find themselves in, taking a step back and using this to express criticism. Conversely, other approaches apprehend subjectivity in terms of ideology, manipulation and even alienation, asserting that it constitutes a leading vehicle for capitalist domination. In this view, workers are tricked and blinded by this relationship of domination, which becomes all the more effective as a result. The present issue of « Controversies » participates in this debate by taking the views held by three sociologists of work and comparing their stances – and research engagement – towards worker subjectivity.
La subjetividad de los trabajadores es un objeto de estudio frecuente en sociología. Algunos enfoques dan prioridad a los análisis en términos de implicación, identidad y sentido del trabajo y consideran que los trabajadores mantienen una relación realista y auténtica con su actividad. Desde esa perspectiva, los trabajadores demuestran tener una visión clara de las situaciones que viven, que toman distancia de ellas y formulan críticas. Otros enfoques, por el contrario, aprehenden la subjetividad desde el ángulo de la ideología y de la manipulación, incluso de la alienación, considerando que constituye un vector esencial de la dominación capitalista, de tal forma que los trabajadores se engañan y se ciegan en relación con una dominación que por ello resulta aún más eficaz. En esta ocasión, "Controverse" entra en el debate cruzando las perspectivas que tres sociólogos del trabajo tienen de su postura ante las subjetividades de los trabajadores, a través de su compromiso con la investigación.
La subjectivité des travailleurs est un objet fréquemment étudié par la sociologie. Certaines approches privilégient des analyses en termes d'implication, d'identité et de sens du travail. Elles considèrent que les travailleurs entretiennent un rapport réaliste et authentique avec leur activité. Ces derniers font alors preuve de clairvoyance vis à vis des situations qu'ils vivent, prenant de la distance et émettant de la critique. À l'inverse, d'autres approches saisissent la subjectivité sous l'angle de l'idéologie, de la manipulation, voire de l'aliénation, estimant qu'elle constitue un vecteur privilégié de la domination capitaliste. Les travailleurs sont de cette façon leurrés et aveuglés par rapport à une domination qui est d'autant plus efficace. Ce « Controverses » aborde ce débat en croisant les regards que portent trois sociologues du travail sur leur posture — avec leur engagement dans la recherche — face aux subjectivités des travailleurs.
Fichier principal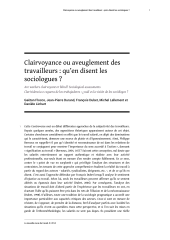 Publi..pdf (305.91 Ko)
Télécharger le fichier
Origin : Publisher files allowed on an open archive