A home Territory: Ties with Places, Ties with others in the Paris suburban Area.
Un territoire d'attaches : lien aux lieux et lien aux autres dans le périurbain francilien
A home Territory: Ties with Places, Ties with others in the Paris suburban Area. This article dis-cusses the individuals' relationship to the territory in the suburban areas. The way this link is built and evolves shows a spatial and social anchoring process, resulting in a narrowing of the living areas for certain trip purposes and the progressive use of behavioural norms (strong associative investment, ability to exploit «invisible» resources of the territory). The potential for development of an «other-mobility» are presented here in relation to these aspirations to the proximity that, far from being understood solely by the single measure of vehicles-per-kilometer, refers to the regio-nalization of the social bond and the processing by residents of the spatial context of a suburban daily resource.
Cet article traite du lien des résidents périurbains au territoire habité et des pratiques par lesquelles il se manifeste. La façon dont ce lien se construit et évolue donne à voir un processus d'ancrage spatial et social, qui se traduit par un rétrécissement des bassins de vie pour certains motifs de déplacement ainsi que par l'adoption progressive de normes comportementales valorisant la capacité à se satisfaire et à contribuer au développement des ressources parfois cachées du territoire, notamment par l'investissement associatif. Les potentialités de développement d'une « altermobilité » sont discutées au regard de ces aspirations à la proximité qui, loin de s'appréhender par la seule métrique des véhicules. kilomètres, renvoie à la territorialisation du lien social et à la transformation par les résidents du périurbain d'un contexte spatial en ressource quotidienne.
Fichier principal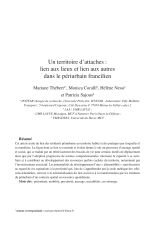 2016_GES_Un territoire d'attache.pdf (1.01 Mo)
Télécharger le fichier
Origin : Files produced by the author(s)