Place de la peinture murale dans la restitution du Grand Palais Royal de Mari (c. 2000-1760 A.C.)
The current project of 3D reconstruction is the culmination of more than 80 years of studies on the best-preserved Syrian- Mesopotamian monument from the Middle Bronze Age. Research on the architecture and mural paintings have made it possible to establish the history of the building, its organisation on ground level and, thanks to textual data, the function of the different sectors. The many clues collected on the storey have led to suggestions about circulation, volumes and lighting. The murals, which reflect three periods in the life of the palace, testify to some evolution, as colour is both a chronological marker and a symbolic element: sparingly used when first introduced around 1800 BC (the Investiture painting), the blue colour (Egyptian blue) later contrasted with the red colour in the large compositions, depending on whether the King was glorified in a secular context (room 220) or a religious one (courtyard 106).
Le projet de restitution 3D en cours avec Archeovision est l'aboutissement de plus de 80 ans de travaux sur le monument syro-mésopotamien du Bronze Moyen le mieux conservé. Les recherches sur l'architecture et sur la peinture murale ont permis d'établir l'histoire du bâtiment, son organisation au rez-de-chaussée et, à l'aide des données textuelles, la fonction des différents secteurs. Les nombreux indices recueillis sur l'étage permettent d'aboutir à des propositions concernant les circulations, les volumes et l'éclairage. Les peintures murales, qui reflètent trois périodes de la vie du palais, sont significatives d'une évolution où la couleur est à la fois un marqueur chronologique et un élément symbolique : utilisé avec parcimonie à son introduction vers 1800 a.C. (peinture de l'Investiture), le bleu (bleu égyptien) s'oppose ensuite au rouge dans les grandes compositions selon que le Roi y est glorifié dans un contexte profane (salle 220') ou religieux (cour 106).
Fichier principal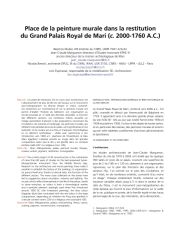 BM_2019+JCM+NB+LE_Polychromy.pdf (1.01 Mo)
Télécharger le fichier
Origin : Files produced by the author(s)