L'énigmatique disparition du corégent Séleucos : expérience triarchique et conflit dynastique sous le règne d'Antiochos Ier Sôter
Seleucus, son of Antiochus I Soter, is mentionned as his father's coregent from 281, but disappeared in 266 under mysterious circumstances, on which ancient authors and modern historiography oppose each other. Ancient historians talk about a family crisis that led to Seleucus' execution, while Moderns conclude to natural death. By reappraising sources (especially BM 55437 and I. Stratonikeia II, 1, 1030), we intend to demonstrate that this event results from the failure of a political experiment : a triarchy which associated Antiochus Soter to both of his sons, Seleucus and Antiochus.
Séleucos, fils d'Antiochos I er Sôter, apparaît comme corégent de son père dès 281, mais disparaît en 266 dans des circonstances mystérieuses, sur lesquelles les auteurs anciens et l'historiographie moderne s'opposent. Les sources évoquent une crise familiale ayant conduit à l'exécution du fils par le père, mais les Modernes préfèrent conclure qu'il a été emporté par une épidémie. En réétudiant les sources (notamment BM 55437 et I. Stratonikeia II, 1, 1030), nous entendons montrer que la disparition du corégent Séleucos résulte de l'échec d'une expérience politique originale : une triarchie associant Antiochos I er et ses deux fils, Séleucos et Antiochos.
Fichier principal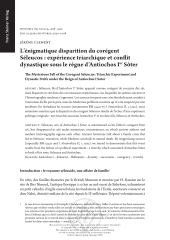 CLEMENT Jérémy 2020a L'enigmatique disparition du corégent Séleucos Historia 69.pdf (1.29 Mo)
Télécharger le fichier
Origin : Publisher files allowed on an open archive