Démocraties de France et d'Uruguay (2015-2022)
This work looks at the study of democracy and its practical forms, focusing specifically on a comparative perspective between France and Uruguay. The aim is to analyse democratic placements and training in civic participation in education policies. To address this issue, the study focuses on the analysis of educational policies that regulate pedagogical practices, with an emphasis on compulsory education and teacher training. The comparative perspective is relevant because of the close links between the political system, society and education. The French republican model and their education system have historically influenced Uruguay, making it possible to compare cultural, social, pedagogical and political aspects of the two countries. This research focuses on a comparative analysis of official data and documents, constitutions and the main educational laws of each country in force in 2022. Elements that allow us to better interpret each reality and obviously have a direct impact on the type of citizenship and democracy that are promoted among other policies. The following lines propose a better understanding of our democracies through a political analysis of the discourse of master signifiers in legal-educational macro-policies. These are fundamental points for producing an initial theoretical-conceptual framework and putting it up for discussion, which will enable us to think more clearly about the next stages of the research, so that we can continue to deepen our understanding and our democratic practices.
Ce travail se penche sur l'étude de la démocratie et ses formes pratiques, en se concentrant spécifiquement sur une perspective comparative entre la France et l'Uruguay. L'objectif est d'analyser les placements démocratiques et la formation en participation citoyenne dans les politiques éducatives. Pour aborder ce sujet, l'étude se concentre sur l'analyse des politiques éducatives qui règlent les pratiques pédagogiques en mettant l'accent sur l'enseignement obligatoire et la formation des enseignants. La perspective comparative est pertinente en raison des liens étroits entre le système politique, la société et l'éducation. Le modèle républicain français et leur système éducatif ont influencé historiquement l'Uruguay, ce qui permet de comparer des aspects culturels, sociaux, pédagogiques et politiques des deux pays. Cette recherche se concentre sur l'analyse comparée des données et documents officiels, des constitutions et les principales lois éducatives de chaque pays, en vigueur en 2022. Eléments qui permettent d'interpréter mieux chaque réalité et évidemment ont un impact direct sur le type de citoyenneté et de démocratie qui sont promues parmi d'autres politiques. Les lignes suivantes proposent de mieux comprendre nos démocraties à travers l'analyse politique du discours des signifiants maîtres dans les macro-politiques juridique-éducatives. Points fondamentaux pour produire un premier cadre théorique-conceptuel et le mettre à discussion, ce qui permet de penser mieux les prochaines étapes de la recherche pour continuer à approfondir notre compréhension et nos pratiques démocratiques.
Fichier principal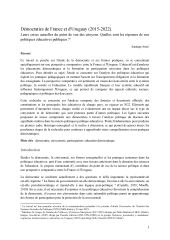 Arias-démocratie citoyeneté et éducation.pdf (373.17 Ko)
Télécharger le fichier
Origin : Files produced by the author(s)
Licence : Copyright