Eclaireurs, scouts de France and "Signe de piste"
Eclaireurs, scouts de France et "Signe de piste"
From its birth to 194018 , Catholic Scouting was thought, dreamed and generally lived by its promoters, leaders and members, explicitly or not or not, as an Order. This notion of an Order should be explained in due course, because understood in the sphere of Catholicism, it can lead to confusion. What we can say here is that simply say here, it is that this preliminary observation does not mean that there was absolute unity of of thought or of dream, even less of lived, nor total unanimity of the promoters, leaders or members. It means that once considered the diversity of the nuances inherent to any grouping, an overall conception emerges from the representation that the Scouts de France had of themselves and of their Movement, a representation that they which they often raised as a banner to gather under it more and more young people.
De sa naissance à 194018, le Scoutisme catholique fut pensé, rêvé et généralement vécu par ses promoteurs, ses Chefs et ses membres, explicitement ou non, comme un Ordre. Sur cette notion d'Ordre, il conviendra de s'expliquer en son temps, car comprise dans la sphère du catholicisme, elle peut prêter à confusion. Ce que l'on peut simplement dire ici, c'est que cette constatation préalable ne signifie pas qu'il y eut unité absolue de pensée ou de rêve, encore moins de vécu, ni unanimité totale des promoteurs, des Chefs ou des membres. Cela signifie qu'une fois considérée la diversité des nuances inhérentes à tout groupement, une conception d'ensemble se dégage de la représentation que les Scouts de France eurent d'eux-mêmes et de leur Mouvement, représentation qu'ils hissèrent souvent comme une bannière devant rassembler sous elle de plus en plus de jeunes.
Fichier principal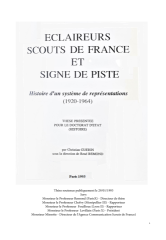 Guerin_These_1993PA100047.pdf (66.4 Mo)
Télécharger le fichier
Origin : Files produced by the author(s)