De Pierre à Thomas Corneille : le traitement du « cas rare » dans les dramaturgies comiques à l'espagnole
While in the preface to Charme de la voix (1658) Thomas Corneille attributes the lack of success to the strange subject of Moreto's comedia which he adapted, it seems that this aspect of the theatrical source actually encouraged him to imitate it, since the taste for unprecedented situations that were not created on purpose characterise some of his famous brother's plays. However, by reducing the sophisticaton of the heroine's demands and protecting her from mockery, the author modified the nature of the comedy which, despite some Unes with double entendre and fewer graciosos, is primarily based on the farce which he calls into question. Other ways of taking into account the Trench audience also made his comedy, with beautiful musical components, a little less theatrical than the model he followed. The virtues of a Creative translation have made it a play that is likely to appeal today.
Alors que dans la préface du Charme de la voix (1658), Thomas Corneille en attribue l'insuccès à la bizarrerie du sujet de la comedia de Moreto qu'il a adaptée, il semble que cet aspect de la source théâtrale a pu au contraire motiver son imitation dans la mesure où le goût des situations inouïes créées volontairement caractérise certaines œuvres de son célèbre frère. Toutefois, en atténuant la sophistication des exigences de l'héroïne et en la mettant à l'abri d'une raillerie légère, l'auteur a modifié la nature du comique qui, malgré la saveur des répliques à double entente et une réduction du nombre des graciosos, repose surtout sur la bouffonnerie qu'il incrimine. D'autres formes de prise en compte des spectateurs français ont aussi contribué à rendre sa comédie, aux jolies composantes musicales, un peu moins théâtrale que son modèle. Les vertus de la traduction créative en font de nos jours une pièce digne de plaire.
Fichier principal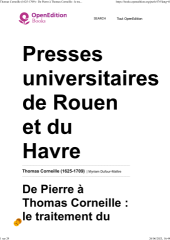 De Pierre àThomas Corneille. Le traitement du cas rare.pdf (864.17 Ko)
Télécharger le fichier
Origin : Files produced by the author(s)